TDI High Precision Wafer Handling "CP" PEEK Tip Tweezers
TDI "CP" Conductive Peek Wafer Handling Tweezers provide the features of a durable tip material with self-aligning replacement tips and anti-magnetic handles. These fiber tip tweezer tips are perfectly balanced offering fine tip symmetry and alignment for precision handling applications. These PEEK tweezers offer a higher 260°C temperature tolerance and are compatible with a wide range of acid and solvents.
These 2" and 4" wafer handling "CP" tweezers are excellent for handling silicon wafers, gallium arsenide wafers, lead frame strips and sensitive ceramic or glass parts where scratching is a critical concern.
Standard Features: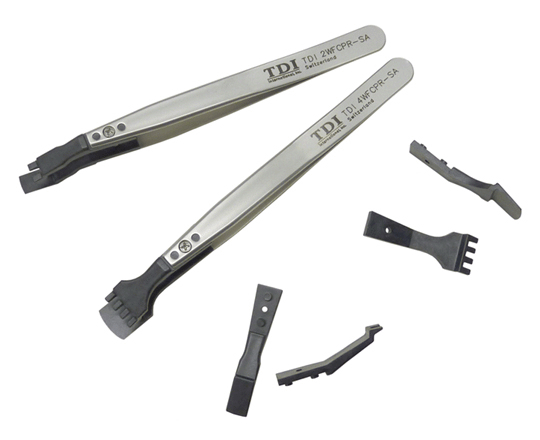 Conductive "CP" PEEK with Carbon Fiber Tips
Conductive – Surface Resistivity 103-105 Ohms/sq.
High Heat Capability – 260°C (Continuous Use) – 300°C (Short Time)
Self-Aligning Replacement Precision Tips
Stainless Anti-Magnetic Handles – "SA"
High Precision Fine Tip Symmetry and Balance
Acetone / IPA resistant
Reverse Action Handles Available upon Request
Lead-free
More Information:

No products were found matching your selection.