TDI VPS2 VacuPik® Dual Vacuum Pickup Tool Kit
TDI VPS2 VacuPik® Dual Vacuum Kit for two operators provide a precision ultra quiet vacuum pump and a large selection of ESD safe tips for handling a variety of parts for electronic assembly requirements. This system features a compact design requiring minimum workstation space and two side mounted holders for vacuum handles with push-button release. The TDI VPS2 VacuPik® is ESD safe connecting to ground automatically with included power cord.
The VacuPik® dual vacuum pickup kit includes 9ea.of the static dissipative non-marking nitrile rubber vacuum cups, 5 bent probes with cups and 4 straight probes with cups.
Typical applications include circuit die, SMT assembly, substrates and flat components.
All TDI Vacuum Pickup Tools are for use with dry applications only.  For Pick and Place applications only, not for use as a vacuum cleaner.
Standard Features: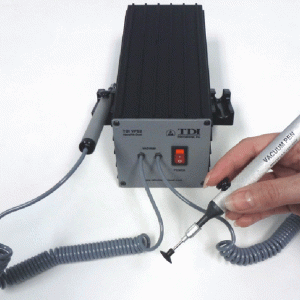 Compact General Purpose Dual 2 Operator System
Different Vacuum Tips/Cups can be Used by Each Operator
Durable Vacuum Pump Generates up to 6 Inches of Mercury
Ultra Quiet Operation
ESD Safe Connecting to Ground Automatically with Included Power Cord
Dimensions: 7-3/4″L x 3″H x 2-1/2″W
110V A.C. / 50/60 H / 4W (Adapter for Foreign Voltage not Included)
Black Anodized Aluminum Body, Silver Aluminum Handle
Two Side Mounted Vacuum Handle Holders with Push Button Release
ESD Safe Conductive and Static Dissipative Tips/Cups
All TDI Vacuum Pickup Tools are for Use in Dry Applications Only
VPS2 VacuPik® Kit Includes:
Vacuum Pump with Dual Vacuum Fittings (110V A.C. / 50/60 Hz / 8 Watts)
2ea. Aluminum Vacuum Handles
2ea. 5 Foot Static Dissipative Coiled Hose
9ea. Probes with Static Dissipative Non-Marking Nitrile Rubber Vacuum Cups
5 Bent Probes- Cups 3/32″, 1/8″, 3/16″, 1/4″, 3/8 and 4 Straight Probes- Cups 1/8″, 1/4″, 3/8″, 1/2″
Request a Quote for Volume Quantity Discounts!

No products were found matching your selection.