Description
"TD"® Tweezers with ergonomic ESD safe static dissipative "DVH" cushion grips reduce stress and tension in fingers while providing superior operator comfort when working continuously with small parts.  Available for most tweezer styles.
TDI pioneered the "TD"® Static Dissipative Polymer tweezers for most critical ESD applications with excellent transient current discharge performance that meets less than 40V ESD threshold Class 0 CDM Compliance.
TDI "TD"® Static Dissipative Polymer Tweezers provide the features of a durable polymer tip material with self-aligning replacement tips and anti-magnetic stainless steel handles.  These tweezers are excellent for handling sensitive ceramic and glass parts where nonmetallic scratching is critical.
Standard Features: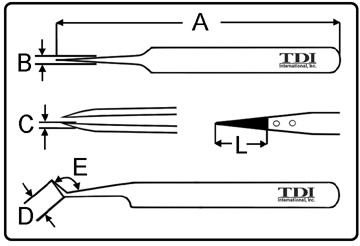 ESD Safe Tweezer Tips – Static Dissipative Polymer "TD"®

Class 0 CDM Compliant!

Low Resistance Limit: 106 Ohm/high resistance limit: 108 Ohm at 40 and 100V
Low Resistance Limit: 107 Ohm/high resistance limit: 109 Ohm at 10V
Temperature Resistant 200°C (Continuous Use) – 230°C (Short Time)
Silicone and Chloride Free Polymer
Solvent / Acid Resistant
Self Aligning Replacement Tips
Stainless Anti-Magnetic Handles "SA"
High Precision Fine Tip Symmetry & Balance
Ergonomic blue vinyl cushion grips "DVH"
Reduces stress and tension on fingers, and provide superior operator comfort when working continuously with small parts.
ESD safe static dissipative 109-1011 Ohms/sq.
Lead-free
More Information: