Your Trust is Our Longevity.   Celebrating 40 Years!
TDI International, Inc. - About Us
TDI International, Inc. specializes in the highest quality precision tweezers and electronics assembly hand tools as well as cleanroom and assembly equipment including dry boxes, glove boxes and chairs.
TDI has been involved in the electronics, semiconductor, microwave device, and medical device assembly, military, fiber optics, research and development and disk drive industries in laboratories and clean rooms for 40 years.
Our product lines are utilized in a wide range of applications for these specific industries and in ESD, cleanroom, assembly and ergonomic applications.
Common Tweezer & Hand Tools Applications Include:
Printed Circuit Board Assembly
Laser Device Assembly
Microwave Device Assembly
Circuit Die & Electronic Package Assembly
Circuit Board Repair & Rework
Medical Device Assembly
Disk Drive Assembly
Semiconductor Assembly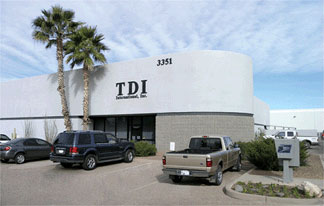 TDI International, Inc.
3351 E. Hemisphere Loop
Tucson, AZ 85706
Phone: 520-799-8000 / Fax: 520-799-8002
General Questions & Sales: sales@tdiinternational.com
Handtools Division: handtools@tdiinternational.com
Equipment Division: equipment@tdiinternational.com
---
TDI offers the largest selection of ESD safe tweezers which meet ESD standards and has been an ESDA Member since 1985.
---
HIGHEST QUALITY - We select manufacturers for specific product types to assure consistent supplier / quality. This partnership with the manufacturer also allows TDI to offer the largest selections of product styles available.
LOWEST COST - Our partnership with the manufacturers directly and our policy to support our end users / customers directly, achieves the economy of lowest cost while maintaining the value of highest quality.
TOTAL TECHNICAL SERVICE - TDI combines the resources of our extensive technical website, inside customer support and our partnership with our manufacturers to achieve the comprehensive technical service objective.
---
Sample of TDI Customers

AVX Corporation
Jet Propulsion Laboratory
Siemens
Boeing Satellite Systems
L-3 Communications
Skyworks Solutions, Inc.
Coherent Laser
Lawrence Livermore National Lab
Space Systems Loral
Crane / Hydro-Aire
Linear Technology Corporation
Spectra Physics Lasers
Cypress Semiconductor
Lockheed Martin Corp.
St. Jude Medical
Eastman Kodak Company
M/A-Com
Systron Donner
ExxonMobile Chemicals
Medtronic
Teledyne Microelectronics Tech.
Freescale Semiconductor, Inc.
Micron Technology, Inc.
Texas Instruments
Fujitsu
Motorola
TriQuint Optoelectronics, Inc.
GE Healthcare
NASA
TriQuint Semiconductor
Hitachi
Naval Research Laboratory
Tyco Healthcare
Honeywell
Perkin Elmer
Vishay
IBM Corporation
Raytheon, Co.
Western Digital
Infineon Technologies
Rockwell Collins, Inc.
White Electronic Designs
Intel Corporation
Rockwell Scientific
Xinetics, Inc.
ITT Industries Space Systems
Sandia National Laboratories
JDS Uniphase
Seagate Technology

TDI University Customers

University of Arizona
North Carolina State University
University of Maine
Arizona State University
Northeastern University
University of Maryland
Auburn University
Northwestern University
University of Michigan
California Institute of Technology
Princeton University
University of Missouri
Carnegie Mellon University
Purdue University
University of New Mexico
Columbia University
Rice University
University of Pennsylvania
Duke University
University of Alabama
University of Southern California
Georgia Tech University
University of California, Berkeley
University of Texas
Kansas State University
University of California, Irvine
University of Wisconsin
Lehigh University
University of Colorado
Vanderbilt University
Massachusetts Institute of Technology
University of Houston
Yale University
Michigan State University
University of Illinois
---
TDI is a proud member of the following: