TDI DESICCATOR CABINETS
TDI Desiccator Cabinet storage systems are available in Acrylic, Static Dissipative Acrylic and Stainless Steel.  TDI Desiccator Cabinets provide the highest quality and most durable construction to meet the requirements for Cleanroom, ESD and assembly component storage applications.  These desiccator cabinets feature our unique ultra nitro-flow system with compartment cut outs in walls and floors for even nitrogen distribution.  Spring loaded door latches provide air-tight door seals while continuous hinges provide maximum door support.  The plenum chamber option purges nitrogen into compartments at an even rate.  Featuring a removable back wall for easy maintenance.
Static dissipative desiccators offer stainless steel shelves, racks and plates which are common grounded to the desiccator and wire connected to hard ground. Plates are recommended on the floor of each compartment to enhance grounding and protect the surface from abrasion.
TDI also offers Application Specific Acrylic and Static Dissipative Cabinets, including Wafer Carrier, Waffle Pack, SMT Reel, Bonding Wire and Photomask Storage Cabinets.
---
Acrylic Desiccator Cabinet Storage Systems
View Clear Acrylic   |   View ESD Safe Static Dissipative Acrylic 
Acrylic desiccators utilize 1/4″ acrylic, an inherently inert and clean non out-gassing material.  All desiccator cabinets include unique cabinet door design for minimum door weight with maximums seal integrity and durability. All acrylic desiccators include our unique Ultra Nitro-Flow with notched compartment walls and floors for a uniform humidity control in all compartments.  
Static dissipative acrylic desiccators provide complete electrostatic discharge protection for ESD sensitive cleanroom and assembly component storage.  Stainless steel shelves, racks and plates which are common grounded to the desiccator and wire connected to hard ground. Plates are recommended on the floor of each compartment to enhance grounding and protect the acrylic surface from abrasion.
---
Stainless Steel Desiccator Cabinet Storage Systems

View Stainless Steel Desiccators
These stainless cabinets provide clean, high density storage for both clean room and assembly applications and are designed for maximum weight capacity and long term durability. These desiccator cabinet are available in a Table Top, Stacked Modules and Multi-Chamber Models.  These desiccators have tempered glass doors with heavy duty stainless door frames.  All stainless steel desiccators are available as a pass through with doors on both sides (please specify "pass through" in the comments section of your request for quote).
Multi Chamber stainless steel desiccators are constructed with notched chamber walls and floors, which achieve a single pressure throughout the desiccator cabinet.  This eliminates the need for expensive outlet valves for each compartment, required in typical competitor desiccators.
---
Nitro-Save® Humidity Control Monitor Solid State Sensor for Accurately Controlling Pre-Set RH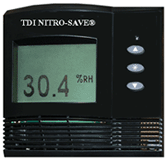 Accuracy: ±2% at 5-80%RH

Silent Operation – High Reliability – No Electromechanical Switches
Solenoid Control Valve & Internal Sensor System
Sensor System Activates Solenoid as N2 Flow Required

Reduces Nitrogen Consumption to 90% (20%RH) in Many Applications
Waffle Pack Storage Desiccator Cabinets
Waffle pack desiccator cabinets provide the highest density storage for 2" and 4" waffle packs, twice the capacity of competitive brands!
Constructed with 1/4″ clear or static dissipative acrylic material (non out-gassing). Sliding drawers offer easy access and adjustable dividers allow diversity for storing either waffle pack size and in various quantities.
SMT Reel Storage Desiccator Cabinet
View SMT Reel Storage Desiccators
TDI's SMT reel desiccator cabinets for high density storage in a clean, dry nitrogen atmosphere for SMT reels up to 13" diameter.  Slide drawer trays offer easy access for reel handling. Upright reel storage for efficient use of compartment space.  Custom designs available for mixed 7" and 13" size reels (please note in comments).
Storage of SMT reels prior to loading onto tape-on-reel feeders used with pick and place machines for component parts handling in electronics assembly applications. Continuous N2 gas source for best humidity control. No desiccants, driers or exhaust systems required.
Wafer Storage Desiccator Cabinet
View Wafer Storage Desiccators
Wafer storage desiccator cabinets provide high density storage of up to 8" diameter silicon wafers in standard wafer carriers (boxes). For wafer carriers 11"W x 11"D x 10"H maximum.  These specialized desiccator cabinets feature a 27" depth to accommodate 4 wafer carriers per compartment.  3/8" extra thick floors provide a higher weight capacity of up to 40 lbs. per compartment.
Wafer fab is a procedure made up of many repeated sequential processes in order to produce complete electrical or photonic circuits.  
Bonding Wire Storage Desiccator Cabinet
Bonding wire manufacturers recommend storage of wire with spools stored upright to avoid wire sag on the spool. These bonding wire acrylic cabinets provide this spool orientation feature, as well as a clean, dry nitrogen atmosphere.
Photomask Storage & Reticle Storage Desiccator Cabinet
View Photomask Storage & Reticle Storage Desiccators
Photomask and Reticle Storage Cabinets provide high density storage for cassettes in a clean nitrogen environment.  Plex rails are designed to accommodate any photomask or reticle configuration.  Stands are available with  vertical wall mounting supports.