BONDING WIRE STORAGE DESICCATOR
Bonding wire storage desiccator cabinets provide high density storage as well as a clean, dry environment.  Industry bonding wire manufacturers recommend storage of wire with spools stored upright in order to prevent wire sag on the spool.  Therefore, all TDI bonding wire desiccators provide this spool orientation.
Bonding wire storage desiccator cabinets provide the highest quality and most durable construction to meet the requirements for the purpose of cleanroom and assembly component storage.  In addition, these desiccator cabinets feature our unique ultra nitro-flow system. This includes compartment cut outs in walls and floors in order to evenly distribute the nitrogen gas.  Spring loaded door latches provide air-tight door seals while continuous hinges provide maximum door support.  Correspondingly, the plenum chamber option purges nitrogen into compartments at an even rate.  The plenum chamber features a removable back wall for easy maintenance.
Acrylic desiccators utilize 1/4″ acrylic, an inherently inert and clean non out-gassing material.  Additionally, all of our desiccator cabinets include a unique cabinet door design.  This allows for minimum door weight with maximums seal integrity and durability.  This coupled with our spring loaded door latches, provides an air-tight seal.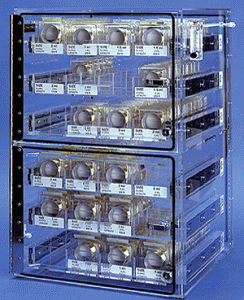 Bonding Wire Storage Desiccator Standard Features:
Acrylic Slide Drawers allow for High Density Storage of 2″ Diameter Bonding Wire Spools
Clean, Dry Storage Bonding Wire, for example Aluminum, Gold or Copper Bonding Wire
1/4″ Clear Acrylic Material
Heavy-Duty Construction
Ultra Nitro-Flow with Notched Compartment Walls and Floors
Electropolished Stainless Steel Continuous Door Hinge
Spring Loaded Latches Provide Air-Tight Door Seals
Removable Back Plenum Wall
Recessed Closed Cell Neoprene Gasket Insures Integrity in Placement
Continuous In-Line Nitrogen (N2) Required
#HM40 Nitro-Save® Humidity Control Monitor accurately, auto controls Pre-Set Relative Humidity% and Reduces Nitrogen Usage!
Digital Hygrometer
Flow Meter and Continuous Bleeder Valve to Nitrogen Purge Desiccator
Acrylic ID Pockets & Camlocks
TDI bonding wire storage desiccator cabinets are also designed for in line nitrogen or clean dry air source.  This assures adequate gas pressures (PSI – source to cabinet) as well as adequate gas volume for continued humidity control operation of the desiccator.
---
Request a Price Quote