TDI High Precision Static Dissipative "TD" ESD Safe Polymer Tip Tweezers
TDI pioneered the "TD"® Static Dissipative Polymer tweezers for most critical ESD applications with excellent transient current discharge performance that meets < 40V ESD threshold Class 0 CDM Compliant.
TDI "TD"® Static Dissipative Polymer Tweezers provide the features of a durable polymer tip material with self-aligning replacement tips and anti-magnetic handles.  These fiber tip tweezers are perfectly balanced offering fine tip symmetry and alignment for precision handling applications.
Standard Features:
ESD Safe Tweezer Tips – Static Dissipative Polymer "TD"®

< 40V ESD threshold Class 0 CDM Compliant

Surface Resistivity 106 to 108 Ohm/sq. at 40V and 100V Threshold
Surface Resistivity 107 to 109 Ohm/sq. at 10V Threshold
Self-Aligning Replacement Tips
Temperature Resistant 200°C (Continuous Use) – 230°C (Short Time)
High Precision Fine Tip Symmetry & Balance
Stainless Anti-Magnetic Handles "SA"
Silicone and Chloride Free Polymer
Solvent / Acid Resistant
Lead free
More Information: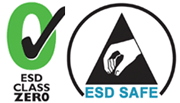 Showing all 5 results