TDI Class 0 CDM Compliant Static Dissipative ESD Tweezers
Most Critical ESD Applications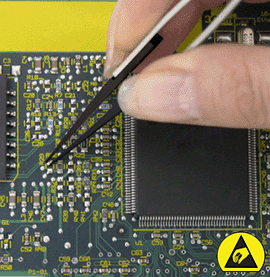 TDI pioneered the static dissipative class 0 tweezers with replaceable tips for most critical ESD applications with excellent transient current discharge performance that meets less than 40VESD threshold Class 0 CDM Compliance.
TDI offers "KD"® static dissipative ESD ceramic tweezers for high temperature applications and "TD"® static dissipative ESD polymer tweezers for lower temperature applications.  These tweezers are excellent for handling sensitive ceramic and glass parts where nonmetallic scratching is critical.
TDI tweezers with ergonomic ESD safe static dissipative "DVH" cushion grips reduce stress and tension on fingers, while providing superior operator comfort when working continuously with small parts.  Available for most "KD"® Ceramic and "TD"® Polymer tweezer styles.
History of Static Dissipative ESD Tweezers | ESD Glossary of Terms
For more information please see:  DA Class 0 Definition for Manufacturing – Dangelmayer Associates, LLC.
Tweezer Class 0 Materials Selection Guide