ESD Tweezers
Static Dissipative Tweezers for Most Critical ESD Applications
These ESD tweezers feature excellent transient current discharge performance that meets less than 40V ESD threshold Class 0 CDM compliance.  Ceramic tip tweezers are ideal for high-temperature applications such as soldering.  Offering excellent break strength and surface finish with an extremely high heat resistance to 1000°C.  Solder, chemical, solvent, and acid resistant.  These tweezers are perfectly balanced for precision handling of delicate parts.
Conductive ESD Tweezers
Popular in electronics assembly and lab applications.  Ideal for handling sensitive glass or ceramic parts where non-metallic, non-scratching tweezer tips are critical.
PEEK tip wafer handling tweezers offer durable tip material, high-temperature tolerance, and good chemical compatibility.  Perfect for the non-scratch handling of gallium arsenide and silicon wafers as well as sensitive ceramic and glass parts.
ESD Comfort Grips for Metal and Replaceable Tip Tweezers
ESD Safe ergonomic vinyl cushion grips reduce stress and tension on fingers.  Giving you optimum comfort when working continuously with small parts.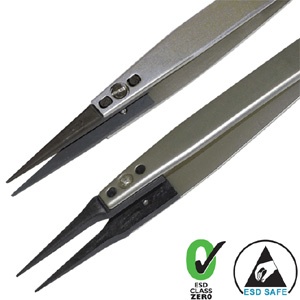 Class 0 CDM Compliant Tweezers
Static Dissipative Ceramic or Polymer Replaceable Tips
For Most Critical ESD Applications <40V ESD Threshold