Static Dissipative Acrylic Desiccators
TDI's Static Dissipative Acrylic Desiccators provide the highest quality and durable construction to meet requirements for cleanroom components and assembly storage applications.  All desiccators utilize 1/4″ acrylic material which is inherently inert and will not out-gas plasticizers that may contaminate desiccator contents.
TDI developed the Nitro-Save® Humidity Control Monitor as an economical, solid-state system that accurately controls relative humidity and significantly reduces nitrogen consumption in our desiccator cabinets up to 90% in many applications.  As an option, the Nitro-Save® system is available on all of TDI's lab desiccators.
All desiccator cabinets include our unique Ultra Nitro-Flow design with notched compartment walls and floors for a uniform humidity control in all compartments.  Desiccators include tightly sealed doors and compartments with recessed closed cell neoprene gasket to minimize nitrogen consumption for relative humidity control.
Desiccator features include a continuous stainless steel door hinge for maximum door support and spring-loaded latches for air-tight door seals.  Options include heavy-duty stainless steel shelves, plates, and racks.  The plenum chamber option includes a removable back plenum wall.  Larger cabinets are available with heavy-duty painted steel, stainless steel or electropolished stainless steel stands with lockable brakes or leg levelers.
Static Dissipative Acrylic Desiccator Features:
1/4″ ESD Safe Static Dissipative Acrylic (Non-Out-Gassing)
Prevents build-up of static charge and accumulation of harmful contamination.
Electrostatic decay in less than 0.05 seconds per federal test standard 101C, method 4046.1
Surface resistivity 106-108 Ohms / sq.
Stainless steel plates provide full conductive grounding and protect acrylic from surface abrasion.
Grounding wire connects from hinge to hard ground. All racks, shelves, plates, latches, and hinges connect to this common ground.
Static dissipative removable back plenum wall.
Choose a Model to Request a Price Quote
ESD
Acrylic
Number
of Doors
Overall
Dimensions
Compartment
Space
Shelf
Space
Total
Cubic Feet
160SD
2
16″W x 16″D x 16″H
14-1/2″W x 13-1/2″D x 7″H
14″W x 13″D
2-3/8
161SD
1
16″W x 16″D x 16″H
14-1/2″W x 13-1/2″D x 15″H
14″W x 13″D
2-3/8
180SD
2
18″W x 18″D x 18″H
16-1/2″W x 15-1/2″D x 8″H
16″W x 15″D
3-3/8
182SD
2
24″W x 18″D x 24″H
22″W x 15-1/2″D x 11″H
21-1/2″W x 14-3/4″D
6
240SD
2
24″W x 24″D x 24″H
22″W x 22″D x 11″H
21-1/2″W x 20″D
8
183SD
3
18″W x 18″D x 36″H
16-1/2″w x 15-1/2″D x 11″H
16″W x 15″D
6-3/4
236SD
3
24″W x 18″D x 36″H
22″W x 15-1/2″D x 11″H
21-1/2″W x 14-3/4″D
9
243SD
3
24″W x 24″D x 36″H
22″W x 22″D x 11″H
21-1/2″W x 20″D
12
162SD
4
16″W x 16″D x 32″H
14-1/2″W x 13-1/2″D x  7″H
14″W x 13″D
4-3/4
248SD
4
24″W x 18″D x 48″H
22″W x 15-1/2″D x 11″H
21-1/2″W x 14-3/4″
12
2444SD
4
24″W x 24″D x 48″H
22″W x  22″D x 11″H
21-1/2″W x 20″D
16
2446SD
5
24″W x 24″D x 60″H
22″W x 22″D x 11″H
21-1/2″W x 20″D
20
488SD
6
48″W x 18″D x 36″H
22″W x 15-1/2″D x 11″H
21-1/2″W x 14-3/4″
18
484SD
8
48″W x 24″D x 48″H
22″W x 22″D x 11″H
21-1/2″W x 20″D
32
486SD
10
48″W x 24″D x 60″H
22″W x 22″D x 11″H
21-1/2″W x 20″D
40
4872SD
12
48″W x 24″D x 72″H
22″W x 22″D x 11″H
21-1/2″W x  20″D
48
---
Standard Desiccator Features: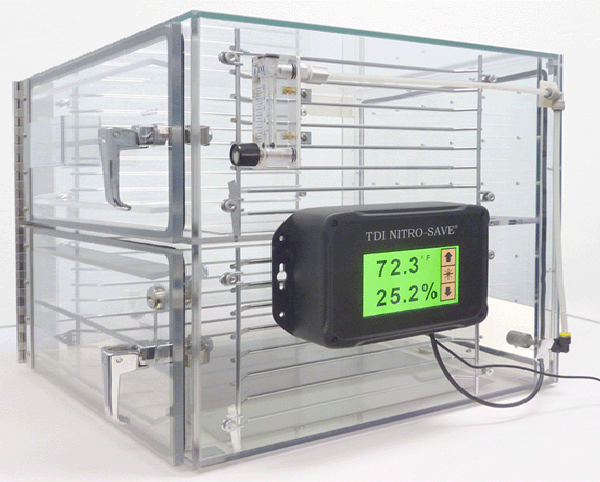 Heavy Duty Construction
Ultra Nitro-Flow with Notched Compartment Walls and Floors
Electropolished Stainless Steel Continuous Door Hinge
Spring Loaded Door Latches
Removable Back Plenum Wall
Recessed Closed Cell Neoprene Door Gaskets
Heavy Duty Stands
Continuous In-Line Nitrogen (N2) Required
#HM40 Nitro-Save® Humidity Control Monitor  Accurately Controls Pre-SEt RH% and Reduces Nitrogen Usage
Digital Hygrometer
Plenum Chamber, Flowmeter & Continuous Bleeder Valve to Nitrogen Purge Desiccator
Perforated Stainless Steel Shelves
Camlocks and ID Pockets
Heavy Duty Stands with Levelers or Casters
---
Solid State Sensor for Accurately Controlling Pre-Set RH in ESD Desiccators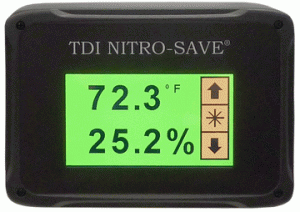 Accuracy: ±2% at 3-80%RH
Silent Operation – High Reliability – No Electro Mechanical Switches
Solenoid Control Valve & Internal Sensor System
Sensor System Activates Solenoid as N2/CDA Flow Required
Continuous In Line Nitrogen or Clean Dry Air Required.
Must Operate at 80 PSI (min) to 100 PSI (max) for Optimum Performance
Reduces Nitrogen Consumption to 90% (20%RH) in Many Applications
---
Knowing the Difference Between Clear and Static Dissipative Acrylic
Clear Acrylic Desiccators are recommended for non electrostatic discharge (ESD) sensitive storage applications. Often these acrylic desiccators are utilized in cleanroom storage of wafers, reticles, photomasks and other contents less susceptible to ESD discharge events. Although acrylic desiccators may attain a highly charged condition, it can be mitigated with the proper precautions. Cleanrooms routinely maintain 45/55% relative humidity control, which provides a layer of moisture on exposed surfaces and this conductive layer facilitates discharging the static electricity to ground. TDI recommends that acrylic cabinets include our grounding feature to accelerate these discharges. (Acrylic Material Data Sheet)
Static Dissipative Acrylic Desiccators (SD) provide complete electrostatic discharge protection for ESD sensitive cleanroom and assembly component storage. The static dissipative acrylic material offers a surface resistivity of 106-108 Ohms/sq. and the desiccators cannot be tribocharged when properly grounded. These static dissipative acrylic desiccators offer stainless steel shelves, racks and plates which are common grounded to the desiccator and wire connected to hard ground. The stainless steel plates are recommended to enhance grounding and protect from abrasion when the desiccator floor is utilized as a shelf.  (Static Dissipative Acrylic Material Data Sheet)
---