Desiccators Features – Why Choose A TDI Desiccator?
TDI's Acrylic Desiccators provide the highest quality and most durable construction. to meet the requirements for cleanroom and assembly component storage applications.
Designed for in-line nitrogen or clean dry air (CDA) source to assure adequate gas pressures (PSI – source to desiccator) and adequate gas volume for continued humidity control operation of the desiccator.
BEST DESICCATOR FEATURES – SUPERIOR GRADE MATERIALS – INNOVATIVE DESIGN!

Acrylic Material Construction for Cleanroom/ESD Applications:
Clear Acrylic Desiccators are recommended for non-electro-static discharge (ESD) sensitive storage applications. Often, these desiccators will be utilized in clean room storage of wafers, reticles, photomasks and other contents less susceptible to ESD discharge events. Although acrylic desiccators may attain a highly charged condition, it can be mitigated with the proper precautions. Clean rooms routinely maintain 45/55% relative humidity control, which provides a layer of moisture on exposed surfaces and this conductive layer facilitates discharging the static electricity to ground. TDI recommends that acrylic desiccators include the grounding feature to accelerate these discharges.
Static Dissipative Acrylic Desiccators provide complete electrostatic discharge protection for ESD sensitive cleanroom and assembly component storage. The material offers a surface resistivity of 106-108 Ohms/sq. and the desiccators cannot be tribocharged when properly grounded. Features include stainless steel shelves, racks, and plates which are commonly grounded to the desiccator and wire connected to hard ground. If you are using the desiccator floor as an additional shelf, we recommend stainless steel plates in order to enhance grounding and protect from abrasion.
Durable Construction / Unique Features
All TDI acrylic desiccators utilize 1/4″ thick acrylic material, which is inherently inert and clean (non-out-gassing).  Competitive brands are often constructed using less expensive 3/16″ polyvinyl chloride (PVC), polypropylene or polycarbonate materials with plasticizers present. This can contaminate cabinet contents.
The primary purpose of a desiccator is to establish precise relative humidity levels, thereupon protecting moisture sensitive materials.  This is in addition to a clean environment for component storage.
TDI has developed an economic, solid-state system that accurately controls humidity and therefore reduces nitrogen consumption.  Competitive desiccator cabinet brands offer expensive moisture control systems that are dependent on electromechanical switches in order to control moisture flow.
These systems are subject to maintenance with repair/replacement in the long run with compromised reliability.  Ironically, most desiccators in service have no RH% moisture control and often consume excess nitrogen to compensate.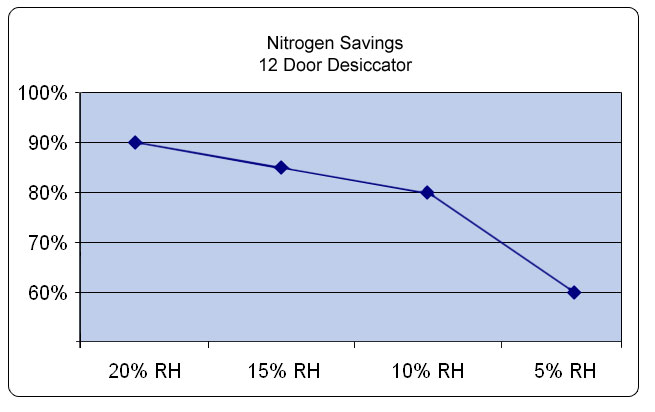 Ultra Nitro-Flow Compartment Flow Through System
One of our most unique desiccator features is the Ultra Nitro-Flow Through System.  All TDI Acrylic desiccators are constructed with Ultra Nitro-Flow compartment cut outs, achieving a single pressure condition throughout the cabinet.  This design allows maximum flow in both the vertical and horizontal directions.  Consequently, this reduces higher moisture humidity conditions between the compartments.  This feature also allows for a single bleeder valve and/or Nitro-Save® per multiple compartment cabinets.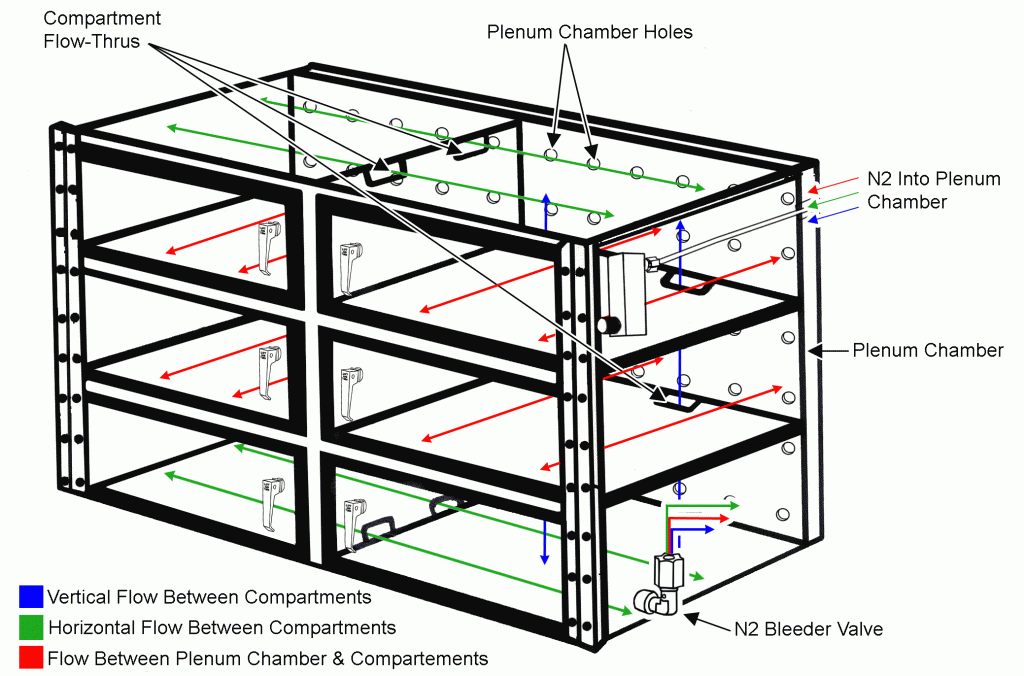 ---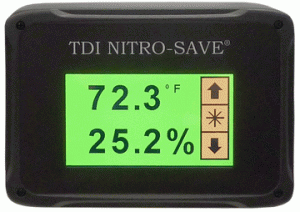 Solid State Sensor System for Accurately Controlling Pre-Set Relative Humidity
Accuracy: ±2% at 3-80%RH
Silent Operation, High Reliability – No Electromechanical Switches
Solenoid Control Valve & Internal Sensor System
Sensor System Activates Solenoid as N2/CDA Flow Required
Must Operate at 80 PSI (min) to 100 PSI (max) for Optimum Performance
Reduces Nitrogen Consumption by up to 90% (20%RH) in Many Applications
---
CNC Fabrication for Precise Design and Manufacture
CNC machined in order to assure precision accuracy and reproducibility to TDI's design criteria.
Cabinet Door Design / Seal Integrity
Another of our unique desiccator features, that you won't find anywhere else is our cabinet door design.  In addition to our continuous door hinges, this door special design allows for minimum door weight with maximum seal integrity and durability.
1/4″ Acrylic doors with bow design door stiffeners ensure uniform sealing.
We recess mount closed cell neoprene (non-out-gassing) gasket material into pre-machined CNC slots to ensure integrity in placement.
Spring-loaded latches provide air-tight door seals.
Electropolished stainless steel continuous door hinge for maximum door support.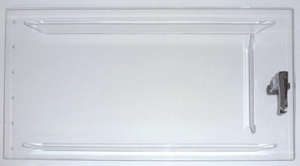 TDI's composite doors, gaskets, latches, and hinges superior design features ensure maximum air-tight sealing of our desiccators while eliminating the need for costly stainless steel door frames.
Although the doors are often the first failure point of a desiccator, TDI's composite design features have proven virtually indestructible in our 25 years of providing desiccator cabinets to our customers worldwide.
Typical competitive brands will utilize thinner plastic door material as well as rubber gaskets mounted on the door.  Not to mention refrigerator style latches as opposed to our spring loaded latches.  As a result, these cabinets require heavy stainless steel door frames to achieve adequate sealing.
| | | |
| --- | --- | --- |
| | | |
| Recessed Gasket Material | Spring Loaded Latches | Continuous Door Hinge |
Removable Plenum Chamber allows for Uniform Nitrogen Gas Flow
The static dissipative plenum chamber includes a removable static dissipative acrylic back wall.  As a result, this allows for easier access and maintenance in humidity control monitor applications.  In order to regulate the nitrogen flow, in response to the high humidity set point, the Nitro-Save® solenoid valve must be mounted in the plenum chamber.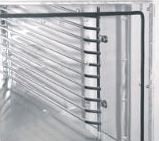 Highest Quality + Lowest Cost + Total Technical Service = Best in the Industry!