LAB CHAIRS/LAB STOOLS
Ergonomic lab chairs and lab stools have been designed to meet the highest standards for quality, ergonomic comfort, durability, ESD seating compliance and class 100 clean rooms.
All TDI Chairs and Stools also meet the durability requirements of customer usage during 24/7 shift changes. All TDI chairs come with a 5 year structural and mechanical warranty.
---
ERGO-FIT

Production Chairs, Lab Chairs & Clean Room Chairs

Combines all the best and most ergonomic features in one lab chair! Offering a durable, heavy-duty and ergonomic design. ERGO-FIT ESD Lab Chairs and Clean Room Chairs adhere to the highest quality standards for ergonomic comfort, as well as technical requirements for your industry.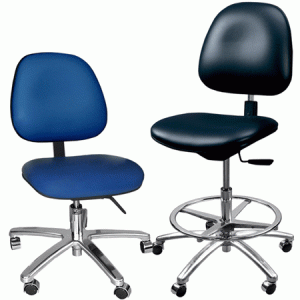 30 Series ERGO-FIT Chairs – Regular or ESD Safe
300 lb. Weight Capacity
4 Adjustable Height Choices
Back Tilt Control
17″W x 16″H High Back with Built-in Lumbar Support
19″W x 18″D Contour Seat with Waterfall Edge for Increased Circulation
Heavy Duty Fabric or Vinyl Upholstery – Many Colors to Choose From
5-Legged 28″ Diameter Wheelbase for Maximum Safety and Stability
Flat Footring Standard on Taller Models
Casters with or without Safety Brakes, or Glides
Lab Chairs, ESD Chairs or Clean Room Chairs
---
NEW!

ERGO-FIT Engineering Desk Chairs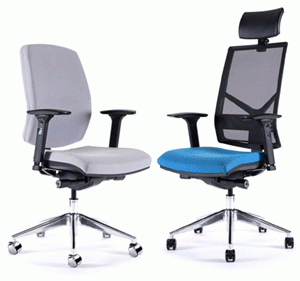 These ergonomic TDI chairs are specifically designed to include higher contoured backs with built-in lumbar and include back and seat tilt with 4 lockable positions. These TDI engineering chairs have a 300lb. weight capacity and a 5 year structural/mechanical warranty.
ERGO-FIT Cushion Back Engineering Desk Chairs – Regular or ESD Safe
Cushion Upholstered Back
Contoured Fabric Seat
Optional Adjustable Arms
Five Legged Polished Aluminum or Black Nylon Base
ESD Safe Option
ERGO-FIT Mesh-Back Engineering Desk Chairs – Not Available in ESD
Breathable Mesh Back
Contoured Fabric Seat
Optional Adjustable Arms
Five Legged Black Nylon or Polished Aluminum Base
---
Regular or ESD Safe – Only Available in Desk Height 30″H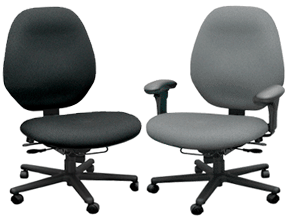 We design our Higher Weight Capacity Assembly Lab Chairs for a higher capacity of 450 lbs.
These assembly/ESD lab chairs offer a durable design with heavy-duty, fire retardant upholstery. Ergonomic features include larger, more comfortable seats and extra high backs with built-in lumbar support.
In addition, the heavy-duty rocking tilt control with sliding seat feature enhances comfort for the operator. The back and seat adjust independently with an adjustable desk height and is compatible with 30" height workstations
Additional features include a largest in industry 5 legged, heavy-duty, 27″ diameter base for maximum stability. Heavy-duty conductive steel dual wheel casters are standard. Safety brakes provide resistant rolling when the operator sits or stands, which prevents the chair from rolling away.
---
Regular or ESD Safe
Lab stools with 15" round seats with 2-1/2″ thick high resiliency foam provide comfortable seating in labs and clean rooms. Ergonomic pneumatic lift control for easy height adjustment and these lab stools swivel 360 degrees.
3 different height adjustments to fit your workstation. Choose the height of your stool based on your workstation height. For example, bench height for 30″H workstations, medium bench for 32-34″H, and high bench height for the tallest 36″H workstations.
These lab stools have the largest wheelbase and the highest stool weight in the industry which ensures the best in overall stability.
---