NS16 Nitro-Save® Solid State Humidity Control Monitoring System
Capable of Maintaining Relative Humidity Control to <5%RH
Nitro-Save is a Solid state sensor system for controlling relative humidity in TDI Desiccator Cabinets.  This unit displays temperature as well, but it is not calibrated to monitor it.
Please note, the Nitro-Save System is designed to be installed in TDI Cabinets with a factory installed plenum chamber. It is not recommended that the Nitro-Save System be installed on other manufacturers' cabinets.
Accuracy: ±2% at 3-80%RH
Silent Operation, High Reliability – No Electro Mechanical Switches
Sensor system activates solenoid as N2/CDA flow required.
Automatic alarm system alerts when pre-set humidity control setting not achieved maximum 2 hour cycle.
Continuous In Line Nitrogen or Clean Dry Air Required
Must Operate at 80 PSI (min) to 100 PSI (max) for Optimum Performance
This unit is designed and calibrated to be used with Nitrogen or Clean Dry Air (CDA) Only.
Reduces nitrogen consumption up to 90% (20%RH)
Electrical Requirements:
Input: 120VAC / 60Hz / 10W  (In-House Adapter may be Required for Foreign Voltage)
Output: 9VDC / 500mA
Power Plug – ETL/UL Ceritfied
Nitro-Save® Operating Instructions
RetroFit Installation Instructions for Existing TDI Desiccators – IMPORTANT: RetroFit Kit requires a TDI Cabinet with a factory installed plenum chamber. Plenum chambers feature a removable back wall, which is required for component installation.
---
The primary purpose of desiccators is to establish precise relative humidity levels to protect moisture sensitive materials in a clean environment. TDI has developed an economic, solid state system that accurately controls humidity and significantly reduces nitrogen consumption.
The Nitro-Save® Humidity Control Monitor significantly reduces the nitrogen required to maintain pre-set humidity (RH%) in TDI's Desiccator Cabinets up to 90%+ reduction in nitrogen consumption in many applications. (See Graph)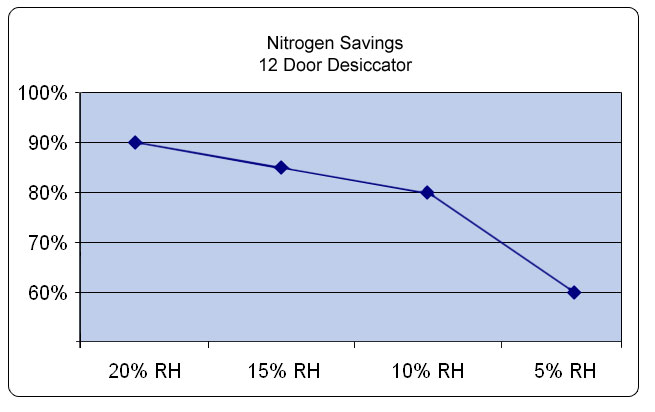 ---
The Nitro-Save® includes a solenoid control valve and internal sensor system to regulate the nitrogen flow in response to the high humidity set point. Whenever the humidity rises 1% above the set point the control valve will turn on. Once the humidity decreases 1% below the set point, the control valve will turn off. Each time the control valve turns on, the monitor will begin a 1 hour timer. If at the end of 1 hour the humidity has not reached 1% below the set point, the High Humidity Alarm will sound. Under normal operating conditions the alarm at the end of the 1 hour cycle will indicate a problem such as a lack of nitrogen flow rate or the cabinet door remained open.
The High Humidity Set Point has been pre-programmed to 20% RH, which represents general electronics requirements. The RH % settings can be increased for less critical humidity control or decreased for more critical humidity control.
To maintain low moisture conditions in TDI Desiccator Cabinets, a constant dry nitrogen gas supply is required, connected to the nitrogen flowmeter on the desiccator cabinet. The flowmeter regulates the nitrogen gas flow (cu/ft/hr) to the plenum chamber of the desiccator with the nitrogen gas distributed uniformly through the perforated inside wall of the plenum chamber into each compartment.
---
All TDI Acrylic Desiccators are constructed with Ultra Nitro-Flow compartment flow-throughs, which achieve a single pressure and atmosphere condition throughout the desiccator. This unique design allows maximum gas flow in both the vertical and horizontal directions and reduces higher moisture humidity conditions between compartments.
This flow design allows for a single automatic bleeder valve per multiple compartment cabinet and eliminates the need for expensive outlet valves for each compartment, required in typical competitor cabinets. The bleeder valve is located in the bottom of the lowest compartment and serves as an efficient outlet drain for the heavier high moisture atmosphere within the cabinet. This design also allows for a single #NS16 Nitro-Save® Humidity Control Monitor sensor system for multiple compartment desiccators.
---
IMPORTANT: Retro-Fit Kit requires removable back wall & for desiccators flow-through design between chambers.