Dry Box Desiccators / Nitrogen Box
Whether you are storing parts for a clean room or assembly application, or need to isolate your work TDI has an option.  First is our line of nitrogen box/desiccator cabinets.  These dry boxes provide you with the highest quality for exceptional durability.  Another important feature is the choice between clear acrylic or ESD safe static dissipative.  Our cabinets offer high-density storage and if you don't see a standard model that fits your needs, custom dry boxes are available upon request.  We will work with you to find the best option for your storage needs!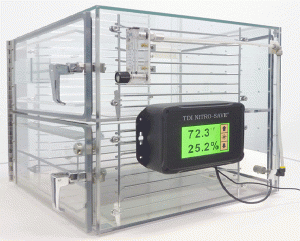 Providing you with the highest quality and most durable construction to meet the requirements for Cleanroom, ESD, and assembly component storage and working applications.
TDI clear acrylic & ESD safe acrylic dry box desiccators include the best features.  For example, our unique ultra nitro-flow system for even nitrogen distribution.  The plenum chamber option purges nitrogen into compartments at an even rate and has a removable back wall for easy maintenance.  Furthermore, the nitro-flow cut outs allow gas flow in both the vertical and horizontal directions.
Another unique feature is our dry box chamber door design.  Our design allows for minimum door weight while giving you the maximums seal integrity and durability.  We start with stainless steel continuous door hinges.  This is unique because most desiccators and dry boxes are made with a door hinge for each chamber.  Our door hinges run the height of the box.
have Recessed neoprene door gaskets and spring loaded latches provide air-tight door seals.  Finally, our acrylic dry boxes utilize ¼" acrylic, an inherently inert and clean non-outgassing material.
---
More Dry Box Models
Another option for your clean room/lab is our stainless steel dry nitrogen box. These cabinets are available in a table top, stacked modules and multi-chamber models.  Stainless steel dry box desiccators provide clean, high-density storage for both a clean room and assembly applications and are designed for maximum weight capacity and long-term durability.
Furthermore, TDI carries a full line of application-specific storage for waffle packs, wafer carriers, bonding wire, photomask/reticles and SMT tape/reel.  These cabinets are designed for high-density storage, as well as durability.
All acrylic dry boxes include our unique Ultra Nitro-Flow with notched compartment walls and floors for a uniform humidity control in all compartments.  Most noteworthy, this feature is now also standard on our multi-compartment stainless nitrogen boxes.
ESD safe dry box desiccators provide complete electrostatic discharge protection for ESD sensitive cleanroom and assembly component storage.  These ESD safe dry boxes offer stainless steel shelves, racks, and plates.  We connect these stainless steel features to a common ground, with the dry box and wire connected to hard ground. Accordingly, we recommend stainless steel plates on the floor of each chamber to enhance grounding and protect the acrylic surface from abrasion.
---
The primary purpose of a desiccator cabinet is to establish precise relative humidity levels to protect moisture sensitive materials in a clean environment.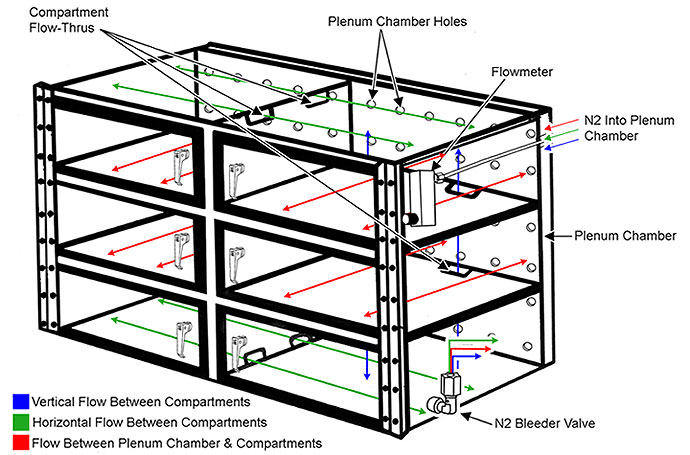 TDI desiccator cabinets require a continuous in-line nitrogen (N2) or clean dry air (CDA) source.  (Our flowmeter and Nitro-Save® are not designed to work with Argon.)  The N2/CDA goes in through the flowmeter to the plenum chamber.  The gas then flows evenly into and between the chambers via our Ultra Nitro-Flow system and excess N2/CDA is automatically bled off via the bleeder valve at the bottom of the cabinet.  TDI desiccators do not require and are not compatible with desiccants or any other types of drying agents.
All TDI multi-chamber acrylic and stainless steel desiccators are constructed with our unique Ultra Nitro-Flow system, as shown in the above diagram.  The individual chambers have cut-out notches allowing maximum gas flow in both the vertical and horizontal directions and reduce the higher moisture humidity conditions between compartments.  This, in tandem with the perforated plenum chamber, achieves a single pressure and atmosphere condition throughout the entire desiccator cabinet.
A flowmeter is used to measure and control airflow, while a bleeder valve continuously relieves excess N2/CDA automatically.  Because of the Ultra Nitro Flow design, only one bleeder valve is required per multiple compartment cabinets.  The bleeder valve is located on the lowest compartment.
Humidity Control
A digital hygrometer will give you a readout of the relative humidity level in your desiccator, as well as a readout of temperature.  To control pre-set humidity a Nitro-Save® unit would be chosen in lieu of a digital hygrometer.  Our Nitro-Save® is a solid-state monitoring system capable of maintaining relative humidity control to <5%RH.  Continuous in-line N2/CDA are required in order to use Nitro-Save®.
All multi-chamber desiccators include a plenum chamber with a removable back plenum wall for easy access and maintenance in humidity control applications.  The Nitro-Save® solenoid valve is mounted in the plenum chamber to regulate the nitrogen flow in response to the high humidity set point.
Nitro-Save® Humidity Control Monitor Solid-State Sensor for Accurately Controlling Pre-Set RH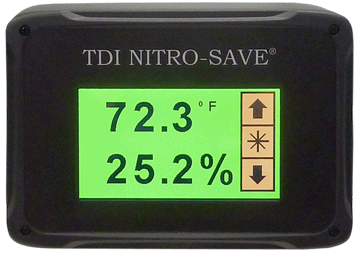 Accuracy: ±2% at 3-80%RH

Silent Operation – High Reliability – No Electromechanical Switches
Solenoid Control Valve & Internal Sensor System
Sensor System Activates Solenoid as N2 Flow Required
Operate at 80 PSI (MIN) to 100 PSI (MAX).  Optimum performance at 80-90 PSI

Reduces Nitrogen Consumption to 90% (20%RH) in Many Applications