Cleanroom, Assembly, and Lab Stools
TDI Cleanroom Stools, Assembly Stools, and Lab Stools are designed to meet the highest quality standards for ergonomic comfort, durability and Class 100 Cleanroom/ ESD technical requirements in these industry applications.  Not FDA Approved.
TDI Lab Stools offer 15" round seats with 2-1/2" thick high resiliency foam, which provides comfortable seating in labs and clean rooms. Ergonomic pneumatic lift control for easy height adjustment and stools swivel 360 degrees. TDI lab stools have the largest wheelbase and the highest stool weight in the industry which ensures the best in overall stability.
Additional lab stools features include 20" diameter chrome plated flat foot rings on taller models and casters with reverse locking safety brakes which provides resistant rolling when the operator sits or stands. These stools are available with a 300 lb. weight capacity.
Laboratory Stool Standard Features:
Heavy-duty, fire retardant fabric or vinyl upholstery.
Fully wrapped bottoms form a complete seal.
Highest stool weight for the best in stability and durability
20" adjustable, flat foot ring prevents slipping. For taller 13 & 15 Series stools.
Largest wheelbase in the industry for maximum safety and stability, 25" diameter.
Stool casters feature reverse locking safety resistance brakes. Free-rolling when operator is seated and resistant rolling when operator stands to prevent the stool from rolling away from you
300 lbs. Weight Capacity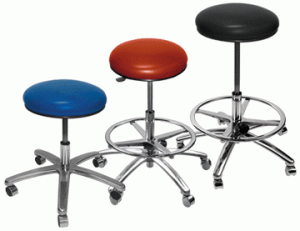 In addition to the standard assembly features above, all TDI Lab Stools are available with ESD and/or Clean Room Options!
ESD Option Features:
Heavy-duty, fire retardant conductive fabric or static dissipative vinyl upholstery.
Conductive steel dual wheel casters.
Clean Room Option Features:
99.99% efficient HEPA filters for particles 0.5 microns or larger (1 back, 2 seat)
Non-porous, heavy-duty clean room vinyl upholstery.
Fully wrapped bottoms form a complete seal, which combined with the HEPA filters, inhibits particle generation.
---
Request a Quote