High Precision General Purpose Tweezers
General purpose tweezers are designed with different lengths, thicknesses and angles for handling parts and components.  Ideal for circuit board repair/rework and microscope/microelectronics applications.
Anti-magnetic stainless steel general purpose tweezers offer precision tip symmetry and balance with good corrosion resistance to most chemicals and acids.  Tip edges are polished to provide a smooth, anti-glare finish and selected styles feature serrated tips and/or grips.
Standard Features: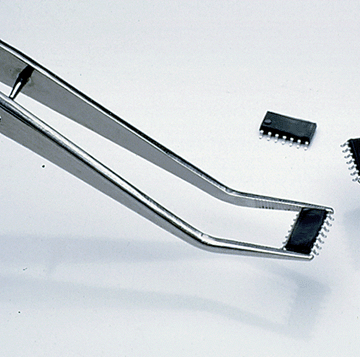 Stainless Anti-Magnetic – "SA"
Low carbon austenitic steel
Precision fine tip symmetry and balance
Polished tip edges, and non-scratch, anti-glare finish.
Different lengths, thicknesses, and angles for a variety of applications.
Selected styles feature serrated tips and/or grips.
Good corrosion resistance to most chemicals, salts, and acids.
Lead-Free
More Information:

Showing all 5 results