Why Choose a TDI Desiccator?
Our desiccator cabinets provide the highest quality and most durable construction to meet the requirements for cleanroom component and assembly storage applications.  Designed for in-line nitrogen (N2) or clean dry air (CDA) source to assure adequate gas pressures (PSI – source to cabinet) and adequate gas volume for continued humidity control operation of the desiccator.
Superior Grade Materials
Highest quality acrylic material construction for clean room and ESD Applications.   All of our desiccators are constructed with 1/4″ thick acrylic material as opposed to thinner, cheaper PVC.  Acrylic material for desiccators is available in clear, static dissipative or UV amber.
Our stainless steel desiccators are constructed with heavy-duty 304 stainless steel with a #4B finish.  Offering tempered glass doors with stainless steel door frames.
Innovative Design
All TDI desiccators are constructed with compartment flow throughs; cut outs in the chamber walls and floors.  This results in a single pressure condition throughout multi compartment desiccator cabinets.  This unique system provides maximum flow in both the vertical and horizontal directions and expeditiously reduces higher moisture humidity conditions.  Finally, the perforated plenum chamber purges nitrogen into all compartments at an even rate.  Acrylic plenum chamber features a removable back wall for easy maintenance.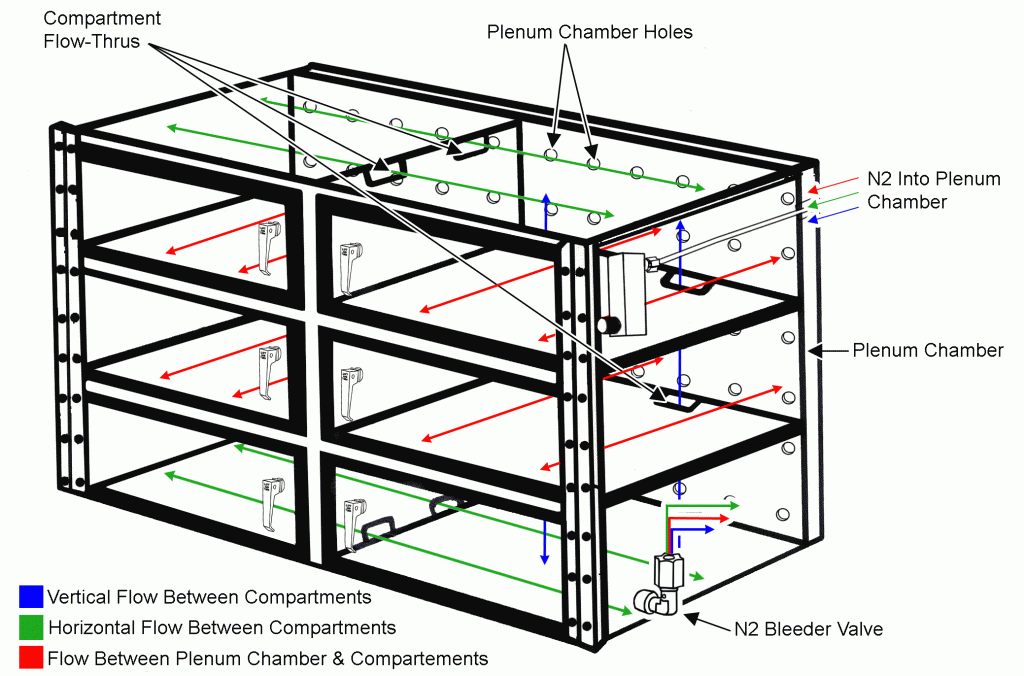 This system offers a highly efficient / economical design to provide rapid recovery to pre-set RH% levels when doors are opened in normal usage functions.
In cases where the Nitro-Save® is running when the doors are open, a positive pressure of nitrogen flow extends throughout the desiccator plenum wall to all compartments and exits through the open door(s).  This precludes any higher humidity room air back fill into the desiccator.
The desiccator cabinet and room atmospheric pressures are similar when the pre-set RH% settings have been achieved.  When the doors are opened, air movement between the compartments and the room is slight during the brief time frame of exposure with minimal RH% level increase in the desiccator.
Clean rooms generally operate in a 45-55% RH range and this would represent the highest increase condition possible inside an open desiccator compartment.
Competitive desiccator brands offer expensive moisture control systems that are dependent on electro-mechanical switches to control moisture flow.  These systems are subject to maintenance with repair / replacement in the long run with compromised reliability.  Ironically, most desiccators in service have no RH% moisture control at all and often consume excess nitrogen to compensate.
Best Performance Door Design
Minimum Door Weight – Maximum Seal Integrity and Durability
Closed cell neoprene, non out-gassing gasket material is recess mounted into CNC pre-machined slots to insure integrity in placement.
Spring loaded door latches on each compartment for an air tight seal every time.
Electropolished stainless steel continuous door hinge for maximum door support.
Vertical door stiffeners provide extra support and prevents door sagging in acrylic desiccators.
TDI's composite doors, gaskets, latches and hinges superior design features insure maximum air-tight sealing of our desiccators, while omitting the need for expensive stainless steel door frames.  Although the doors are often the first failure point of a desiccator, TDI's composite design features have proven virtually indestructible in our 25 years of providing desiccator cabinets to our customers worldwide.  Typical competitive brands with thinner plastic door material, rubber gaskets mounted to the door and refrigerator style latches, requiring heavy door frames to achieve adequate sealing.
| | | | |
| --- | --- | --- | --- |
| Gasket Material |  Spring Loaded Latches | Continuous Door Hinge | Vertical Stiffeners |
| | | | |
In Conclusion
TDI offers the best of the best!  Our desiccators are constructed of the highest quality materials.  They are the most durable while providing the highest density storage!  We've all heard the phrase "you get what you pay for".  We put the time and dedication into each desiccator to provide you with a product that will stand the test of time.
Highest Quality + Most Durable + Total Technical Service = Best in Industry!