ESD Chairs Path to Ground
ESD Chairs Path To Ground
Metal clasps and electrical wires connect conductive upholstery to back bar mechanism for positive connection, and connect conductive upholstery to chair control for positive contact.
Control makes contact with cylinder shaft.
Back upright spring clip makes contact from upright bar to control.
Aluminum base makes contact with cylinder housing.
Charge passes through casters to conductive floor.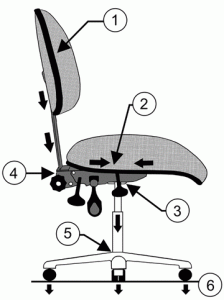 TDI ERGO-FIT ESD Laboratory Chairs offer a durable design with heavy-duty, fire retardant conductive fabric or static dissipative vinyl upholstery. Conductive steel dual wheel casters are standard, as they offer the best ESD grounding.
Additional features include 20" diameter chrome plated flat foot rings on taller models, which prevent slipping and reverse locking safety brakes which provide resistant rolling when operator stands. Largest wheelbase in the industry for maximum safety and stability!  These chairs have a 300 lb. weight capacity. 30 Series chairs offer standard sized seats and backs, while 40 Series chairs offer larger seats and backs.
ERGO-FIT ESD Laboratory Chairs are designed to meet the highest quality standards for ergonomic comfort, durability and ESD technical requirements in these industry applications.
Both ESD Chairs & Stools are designed and built to meet the durability requirements of customer usage 24/7 shift changes.