DESICCATOR STORAGE CABINETS FAQ
1 – How do TDI Desiccator Cabinets work?
The primary purpose of a desiccator storage is to establish precise relative humidity levels to protect moisture sensitive materials in a clean environment.
TDI desiccator cabinets require a continuous in-line nitrogen (N2) or clean dry air (CDA) source.  (Our flowmeter and Nitro-Save® are not designed to work with Argon.)  The N2/CDA goes in through the flowmeter to the plenum chamber.  The gas then flows evenly into and between the chambers via our Ultra Nitro-Flow system and excess N2/CDA is automatically bled off via the bleeder valve at the bottom of the cabinet.  TDI desiccators do not require and are not compatible with desiccants or any other types of drying agents.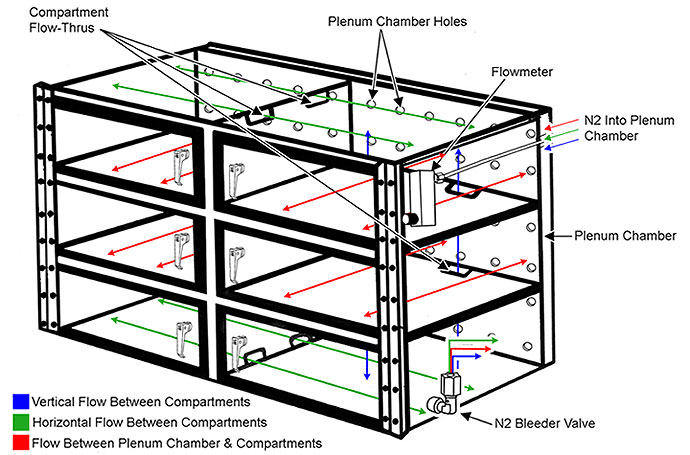 All TDI multi-chamber acrylic and stainless steel desiccator storage cabinets are constructed with our unique Ultra Nitro-Flow system, as shown in the above diagram.  The individual chambers have cut-out notches allowing maximum gas flow in both the vertical and horizontal directions and reduce the higher moisture humidity conditions between compartments.  This, in tandem with the perforated plenum chamber, achieves a single pressure and atmosphere condition throughout the entire desiccator cabinet.
A flowmeter is used to measure and control airflow, while a bleeder valve continuously relieves excess N2/CDA automatically.  Because of the Ultra Nitro Flow design, only one bleeder valve is required per multiple compartment cabinets.  The bleeder valve is located on the lowest compartment.
Humidity Control
A digital hygrometer will give you a readout of the relative humidity level in your desiccator, as well as a readout of temperature.  In order to control pre-set humidity, choose a Nitro-Save® unit in lieu of a digital hygrometer.  Our Nitro-Save® is a solid-state monitoring system capable of maintaining relative humidity control to <5%RH.  We require a continuous in-line N2/CDA in order to use the Nitro-Save® unit.
All multi-chamber desiccators include a plenum chamber with a removable back plenum wall for easy access and maintenance in humidity control applications.  In order to regulate the nitrogen flow in response to the high humidity set point, we install The Nitro-Save® solenoid valve into the plenum chamber.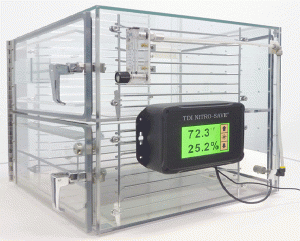 Nitro-Save® Standard Features and Specs:
Accuracy ±2% at 3-80%RH
Silent Operation, High Reliability
No Electromechanical Switches
Sensor System Activates Solenoid as N2/CDA flow is Required
Automatic Alarm System
Reduces Nitrogen Consumption up to 90% (20%RH)
Input: 120VAC / 60Hz / 10W (In-house adapter may be required for Foreign Voltage)
Output: 9VDC / 500mA
This unit must be operated at 80 PSI (min) to 100 PSI (max) for optimum performance.
---
2. How do I Choose the Right Type of Desiccator for my Application?
Now that you know how our desiccators work, it's time to choose the best material for your specific application.  There are many factors to consider when making your decision, and we are always here to help you!  Give us a call at 520-799-8000 or email us at equipment@tdiinterational.com for more help with your specific situation.
Clear Acrylic Desiccators are recommended for non-electro-static (ESD) sensitive storage applications.  These desiccators are often utilized in cleanrooms for storage of wafers, reticles, photomasks and other contents that are less susceptible to ESD discharge events.  Although acrylic desiccator cabinets may attain a highly charged condition, it can be mitigated with the proper precautions.  Cleanrooms routinely maintain 45/55% relative humidity control, which provides a layer of moisture on exposed surfaces.  This conductive layer facilitates discharging the static electricity to ground.  In order to accelerate these discharges, we recommend grounding on acrylic desiccators.
Static Dissipative Acrylic Desiccators provide complete electrostatic discharge protection for ESD sensitive cleanroom and/or assembly components.  Our static dissipative acrylic material offers a surface resistivity of 106-108 Ohms/sq.  This material cannot be tribocharged when properly grounded.  Stainless steel shelves, plates, shelf racks, latches, as well as hinges are common-grounded to the desiccator and wire connect to hard ground.  For enhanced grounding we require the stainless steel plates option.  When you use the floor of the compartment as a shelf, having stainless steel plates installed will also provide protection from surface abrasion.
Although static dissipative acrylic desiccator storage cabinets are recommended for electrostatic discharge (ESD) sensitive storage applications, clear acrylic desiccators may also be utilized as an economic alternative in certain applications.  To use a clear acrylic desiccator to store ESD sensitive components you must include stainless steel shelves and compartment floor plates all properly grounded.  The components must be stored in ESD safe storage bags, totes or another type of protective packaging.  Clear acrylic desiccators remain susceptible on the acrylic material surface to static charging and therefore, we do not recommended for use in critical ESD assembly locations.
Compare Acrylic Desiccator Models by Size – or – View Diagrams side-by-side for a More Visual Comparison
| | | |
| --- | --- | --- |
| | | |
| Shelves | Shelf Racks | Plates |
Stainless Steel Desiccators provide clean, high-density storage for both cleanroom and assembly applications.  Compared to acrylic desiccators, stainless steel provides increased maximum weight capacity and longer durability.  Constructed of conductive stainless steel and wire grounding for ESD protection is available as well.  Stainless desiccators also meet stricter insurance requirements as well as providing part storage privacy.
---
3 – What type of Options Should I Choose?
In order to control humidity in a desiccator cabinet, you will need a plenum chamber, flowmeter & bleeder valve.  Without these options, a desiccator cabinet becomes just a storage cabinet.  Here you will find a short description of each of our options to aid you in choosing the best options for your unique application.
Plenum Chamber – A pressurized housing at the back of the desiccator, which contains nitrogen gas or clean dry air CDA at a positive pressure.  To allow for uniform gas flow throughout, we perforate the inner plenum chamber wall.  The back wall of the plenum chamber is also removable to allow for easy access during maintenance.
Flowmeter – Functions as the N2/CDA inlet for our desiccator cabinets and controls CFU gas flow rate.
Automatic Bleeder Valve –  Continuously and automatically relieves excess N2/CDA to prevent air pressure build-up in the cabinet.
Grounding – Grounding wire connects from racks, stainless steel plates, shelves, hinges & latches to hard ground for ESD applications.
Shelves – If you decide you need shelves for your desiccator, there are a couple of options available.  Each desiccator compartment can have up to 3 shelves, however the type of shelf will depend on the acrylic material you have chosen.  For example, clear acrylic desiccators have the most choices available with solid acrylic or perforated stainless steel shelves.  On the other hand, static dissipative acrylic and stainless steel desiccators can only have perforated stainless shelves.  Perforated SS shelves have the added benefit of improved air flow in each chamber as well as a lower cost.
Clear Acrylic Desiccator Shelf Choices:
| Desiccator | Shelf Type | Max Weight* |
| --- | --- | --- |
| Up to 18″W | 1/4″ Solid Acrylic | 25 lbs. |
| 24″ – 48″ | 1/4″ Solid Acrylic | 25 lbs. |
| 24″ – 48″ | 3/8″ Solid Acrylic | 40 lbs. |
| All Sizes | Perforated Stainless Steel | 40 lbs. |
*Evenly Distributed
Stainless Steel Plates – Mounted on each compartment floor to protect acrylic from surface abrasion and to enhance grounding.
Nitro-Save® – Solid state sensor system for accurately controlling pre-set relative humidity.  In addition, this unit displays current humidity level and temperature.  Choose in lieu of a hygrometer, when you need to accurately control RH% for sensitive parts storage.
Digital Hygrometer – Displays current humidity level and temperature.  Mounted in an acrylic pocket or free standing in stainless desiccators.  Not required with Nitro-Save®, but this unit does not control humidity, only displays it.
Camlocks – Locks for desiccator compartment doors.  Choose the same key to open all locks (keyed alike) or different keys for different compartment's locks (keyed differently).
ID Pockets – Door mounted card holders allow the labeling of compartment contents.
Stands – Our larger desiccator storage cabinets are not designed to sit directly on the floor.  Durable steel stands lift the desiccator off the floor in order to prevent damage to bottom compartments and allow for easier access to all compartments.  Lockable casters provide enhanced mobility and this is especially important for very large heavy desiccator cabinets.
---
4 – What makes a TDI Desiccator Cabinet different from our Competitors?
Superior Grade Materials
We construct all of our acrylic desiccators with heavy-duty 1/4″ thick material.  Unlike thinner PVC, our material eliminates the need for costly stainless steel door frames.  We use continuous door hinges instead of more flimsy intermittent hinges often seen on cheaper desiccator cabinets.  In order to ensure integrity in placement, we recess mount the closed cell neoprene door gaskets into CNC machined slots. This unique design also provides high durability.  Our desiccator cabinet doors also include vertical and horizontal braces or "stiffeners" for even more added support.  As a result, these unique design features both prevent door sag and ensure a perfect air-tight seal.
Innovative Design
Our unique Ultra Nitro-Flow system with cutouts in chamber walls and floors achieves a single pressure condition throughout multiple compartment desiccators.  The benefits are twofold because since this system allows maximum flow in both vertical as well as horizontal directions.  Additionally, it only requires one Nitro-Save® and bleeder valve for the entire desiccator.  As a result this design is the most efficient and effective way to purge a desiccator with nitrogen or CDA.  Typical competitor desiccators require expensive outlet valves as well as humidity control units per compartment.
CNC machined acrylic to assure precision accuracy and reproducibility of each TDI desiccator cabinet.
In Conclusion
TDI offers the best of the best!  As shown above, we only construct our desiccator storage cabinets with the highest quality material.  They are the most durable while providing the highest density storage.  Seems like we've all heard the phrase "you get what you pay for" of course.  But at TDI, we put the time and dedication into each desiccator to provide you with a product that will stand the test of time.