TDI VPS1 VacuPik® Single Vacuum Pickup Kit
TDI VPS1 VacuPik® Single Vacuum Kit provide a precision ultra quiet vacuum pump and a large selection of ESD safe tips for handling a variety of parts for electronic assembly requirements. This system features a compact design requiring minimum workstation space and a side mounted holder for vacuum handle with push button release. The TDI VPS1 VacuPik® is ESD safe connecting to ground automatically with included power cord.
The VacuPik® single vacuum pickup kit includes 9ea. of the static dissipative non-marking nitrile rubber vacuum cups, 5 bent probes with cups and 4 straight probes with cups.
Typical applications include circuit die, SMT assembly, substrates and flat components.
All TDI Vacuum Pickup Tools are for use in dry applications only.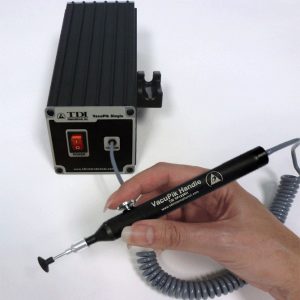 Standard Features:
Compact General Purpose Single Operator System
Durable Vacuum Pump Generates up to 10 Inches of Mercury
Ultra Quiet Operation
ESD Safe Connecting to Ground Automatically with Included Power Cord
Dimensions – 7-3/4″L x 3″H x 2-1/2″W
110V A.C. / 50 / 60 H / 4W  (Adapter for Foreign Voltage not Included)
Black Anodized Aluminum Body, Silver Aluminum Handle
Sided Mounted Vacuum Handle Holder with Push Button Release
ESD Safe Conductive and Static Dissipative Tips/Cups
All TDI Vacuum Pickup Tools are for use with dry applications only.  For Pick and Place applications only, not for use as a vacuum cleaner.
VPS1 VacuPik® Kit includes:
Vacuum Pump
1ea. Aluminum Vacuum Handle
1ea. 5 Foot Static Dissipative Coiled Hose
9ea. Probes with Static Dissipative Non-Marking Nitrile Rubber Vacuum Cups:
5 Bent Probes with Cups 3/32″, 1/8″, 3/16″, 1/4″, 3/8″ and 4 Straight Probes with Cups 1/8″, 1/4″, 3/8″, 1/2″
Request a Quote for Volume Quantity Discounts!

Showing all 5 results